"Thank God I can say I have something in common with Zendaya," the Politician star said on Instagram as she gushes over Zendaya's Tom Ford look on the red carpet at the Critics' Choice Awards.
The 23-year-old Spiderman actress and singer, Zendaya stuns everyone on the 2020 Critic's Selection Awards with a Galactic Glam ensemble. 
She wore a flowing fushia maxi skirt along with a $15,000 chrome "anatomical breastplate" by Tom Ford - which fans quickly recognized as the same top Paltrow wore on the cover of Harper's Bazaar's February 2020 issue. 
Zendaya's longtime stylist and "image architect," who calls Zendaya his "fashion soulmate" said "Everything that she walks out of the house she loves, so no matter what the critics say, she loves it."
Roach added, "And that's the most important thing, and that all comes from confidence."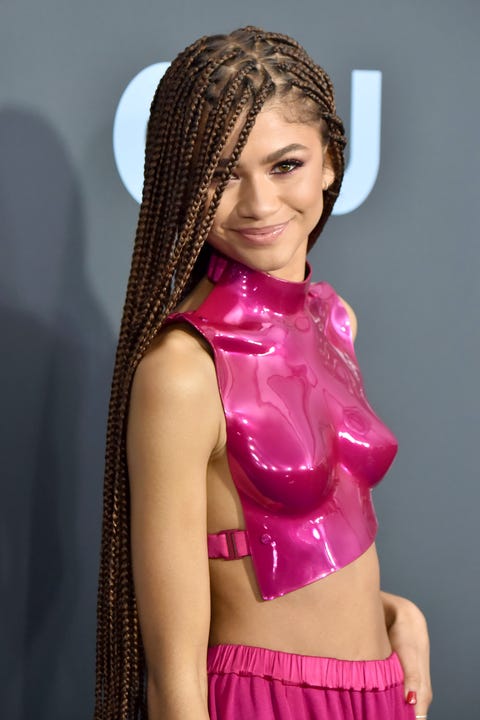 The Euphoria star and young fashion icon's full look appeared in Tom Ford's Spring 2020 Ready-To-Wear collection, which debuted on the runways in NY September 2019. 
The full look consists of a sleeveless, asymmetrical, high neck, sculpted fuchsia crop top teamed over a matching fuchsia harem maxi skirt, with waist length braids. 
It was a huge night for Zendaya. She was nominated for a Critic's Choice Award as best actress in her role on HBO's Euphoria. This would be the 23 year old star's first Critic's Choice Award nomination. 
"I feel incredibly grateful for Euphoria, in general, and just the fact that I could be apart of it," News on the red carpet. "To be even mentioned in the conversation, with a lot of people that are pretty special, it's very cool."
Did anyone else get a GLAM Power Ranger vibe from that 'fit? 
I don't play favourites and would hate to sound biased - but no one else is doing it like Zendaya on the red carpet!